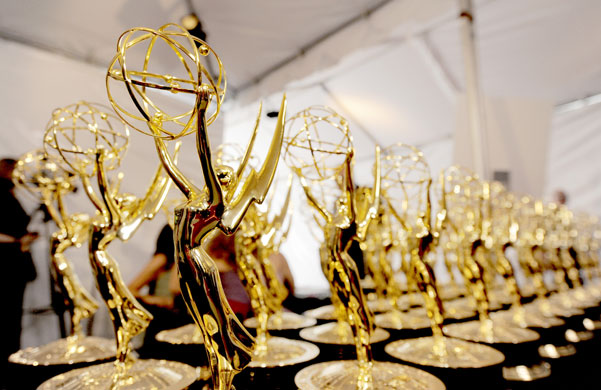 What a great day for Netflix, right folks? The movie provider got some nice Emmy love this morning along with Breaking Bad's actors, Behind the Candelabra and 30 Rock's final season. But even with some nice surprises, I'm feeling a bit more upset with the nominee list this year than in previous years.
Check out the list of nominees
here
.
The Justly Recognized:
House of Cards- Nice to see a web-only show get recognition. Some entertainment reporters
aren't the biggest fans
of the political series, but I believe it's smart, brilliantly acted and addicting.
Game of Thrones- Best Drama and the two Supporting Actor categories were good to the HBO drama. Peter Dinklage is always a good choice in my book, but way to go Emilia Clarke for her first Emmy nod!
Connie Britton- Third TV show in a row, this talented woman cannot be stopped. Nashville can be a bit... soapy to say the least at times, but Britton manages to elevate even the most sappy material.
Surprises in the Best Actress Drama category- I am over the moon that Kerry Washington and Vera Farmiga got love! Farmiga especially delivers such brilliant work week after week on Bates Motel.
Breaking Bad- Not a surprise that one of the best dramas on TV received nods for Best Drama, Bryan Cranston and Aaron Paul but it's great to see Anna Gunn nominated for the second year in a row and finally some love for the always underrated Jonathan Banks. RIP Mike.
Mandy Patinkin- What can I say? As much as I adore Aaron Paul and Peter Dinklage, if Patinkin doesn't win Best Supporting Actor this year for Homeland, I'll be on the verge of rioting. Even during this season's most ridiculous story arcs, Patinkin was gold.
Laura Dern- Considering Enlightened's cancellation, it seemed there was no hope that Dern's great portrayal would get attention. Thank goodness it has. RIP Enlightened.
Louie- SO glad to see the Louie love last year wasn't a one-time thing.
Veep- It's no surprise that this funny series got Best Comedy and Best Actress nods but Anna Chlumsky and Tony Hale sneaking in the Best Supporting categories was a lovely surprise.
Benedict Cumberbatch- I truly believe that Benedict Cumberbatch should be recognized for anything he does. I mean, even if he does a Friskies cat food commercial, there should be a special Grand Jury prize awarded to him. His wonderful performance in Parade's End is no exception to this rule.
Behind the Candelabra- The amount of love for this fantastic TV movie was no surprise, but I love every minute of it anyway
Bobby Cannavale- A perfect addition to Boardwalk Empire season 3 and a perfect choice for Emmy.
Top of the Lake- Loving the love for this difficult to watch but wonderful show. Love to see Peter Mullan and Elizabeth Moss getting recognition.
No Jon Cryer- I could cry with happiness right now.
The Legitimate Snubs:
Tatiana Maslany- Normally I would say that the lack of a BBC nod is not a surprise as so many other networks churn out more mainstream hits. But no nomination for the insanely talented woman who plays seven characters, each with their own uniqueness and depth, that's bonkers.
Parks and Recreation- Amy Poehler is an Emmy darling but the show she's on... not so much. Parks- which is easily one of the best comedies on television- has only been nominated once so far which is crazy because the show continues to get stronger. And yet another year with no love for Adam Scott's Ben Wyatt and Nick Offerman's perfect portrayal of the perfect Ron Swanson. Silly. Just plain silly Emmy voters.
Dexter- I think we all knew the past few season of Dexter have been rough to say the least. And while the series does not deserve a nomination (sorry guys) Michael C. Hall is consistently great. And if Jennifer Carpenter is shut out again next year when Dexter's final season is up for awards, it'll go down as one of the great travesties by the Emmy voters. Carpenter is the emotional core of Dexter and she has deserved love when she was just a rookie cop with a dirty mouth, during the shows moments of idiocy (Falling for your step brother? Icky), to now when she had to choose to kill someone innocent for serial killer brother. RIP Maria Laguerta
New Girl Shut Out- Really? After nominating Zooey Deschanel and Max Greenfield last year, it's baffling that voters ignored the show in its stellar second season- which was actually an improvement over last year. Plus, most of us entertainment junkies were hoping for not just some Deschanel and Greenfield love but also recognition for Jake Johnson. Matt LeBlanc over Johnson is... just plain stupid.
Parenthood- The best chance this phenomenal show had for awards love this year was Monica Potter. And once again... nothing. Come on voters, this show tackles the most difficult situation with the most subtle and realistic hands. This is like Friday Night Lights all over again.
The Americans- It's insane to me that this fantastic new show was snubbed in the Best Drama, Best Actress and Best Actor categories. Emmy voters, did you even watch the show? If you did, you'd know that while it's great you've given Margo Martindale some love, the real attention should have been paid to Keri Russell and most importantly Matthew Rhys.
Julianna Marguiles/The Good Wife- Ouch, only one major acting nod for The Good Wife? That's harsh.
Hayden Panetierre- In my book, if Connie Britton gets a nod for Nashville, so should Panetierre. All the praise I have for Britton's work on this show is equally given to Panetierre, without a doubt.
Jeff Perry- Kerry Washington's foil in Scandal is also one of the best characters on Scandal. Perry's Cyrus Beane is frustrating, evil, heartbreaking, loving and funny at the same. Without Perry's expert hand (and the writing of course), the character would be a one-note villain.
Hannibal- A brilliant show that I am (fairly) confident will get its due soon. Hugh Dancy, I have faith that you and your wife will be nominated for Emmys in the same year. It's happening soon. I can feel it.
Will Arnett- Out of the Arrested Development cast, Gob's storyline was the most entertaining (along with Tobias' horrible musical)
Lily Rabe- Rabe was the standout for me in American Horror Story: Asylum. Seriously Emmy voters, I'm glad you love Jessica Lange so much but this is an egregious error.
The Should Get Nominated, But Never Will:
Southland- Seriously, the show has ended Emmy voters. You can't give these guys a break even now? That's cold. Regina King deserved a nod from day one and for its final season, Michael Cudlitz should definitely have gotten recognition. RIP John Cooper
Happy Endings- Another show that ended without the love it justly deserved. Casey Wilson and Damon Wayans Jr. especially delivered consistently laugh-out-loud performances.
Fringe- Shouldn't great shows that are ending get nominations somewhere? John Noble's repeated snubs for Best Supporting Actor truly stings the heart.